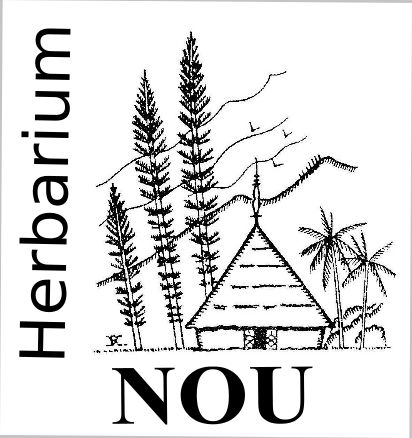 Research Institute for Development. New Caledonia
With over 90,000 specimens, the New Caledonia Herbarium is both a historical collection of heritage value for the Pacific region, and a scientific tool used for knowledge and nature protection.
Founded in 1963 by ORSTOM, and scientifically managed by UMR AMAP since 2009, the New Caledonia Herbarium (NOU) contains a collection representing all 3,400 species of New Caledonian flora. Three-quarters of these species are endemic, and local and international taxonomists have described an average of 1 new endemic species per month since the 2000s. As such, the NOU Herbarium acts as guarantor for the safeguard and availability of this floristic heritage of worldwide interest. Each year, over 200 environmental contributors are welcomed, free of charge (research institutes, consulting firms, local authorities, associations, etc.). The Herbarium's historical collections (the oldest of which dates back to 1836) are concrete evidence of the great colonial expeditions, and retrace the history of New Caledonia.
While the vast majority of the collection (90%) is dedicated to the flora of New Caledonia, the remaining parts include specimens from other Pacific countries (Australia, Vanuatu, Fiji, New Zealand, Wallis & Futuna...).
Nowadays, the collection contains about 100,000 herbarium plates, including 814 types (mostly isotypes). In addition to the herbarium plates, the collections also contain 702 specimens in the alcohol library, 238 specimens in the carpothèque, and over 3,000 samples preserved in the silicatheque. All phanerogamic collections are computerized, and cryptogamic collections are soon to follow. The digitization of the collection is in progress with over 70,000 digitized samples, all types are included.
The taxonomy abides by the reference of the flora native to New Caledonia Florical:
Morat P., Jaffré T., Tronchet F., Munzinger J., Pillon Y., Veillon J.-M. & Chalopin M. 2012. Le référentiel taxonomique Florical et les caractéristiques de la flore vasculaire indigène de la Nouvelle-Calédonie. Adansonia sér. 3 34(2): 177-219. doi: http://dx.doi.org/10.5252/a2012n2a1
Munzinger J., Morat Ph., Jaffré T., Gâteblé G., Pillon Y., Rouhan G., Bruy, D., Veillon J.-M., & M. Chalopin. [continuously updated]. FLORICAL: Checklist of the vascular indigenous flora of New Caledonia. http://publish.plantnet-project.org/project/florical


Contact
David Bruy : david.bruy@ird.fr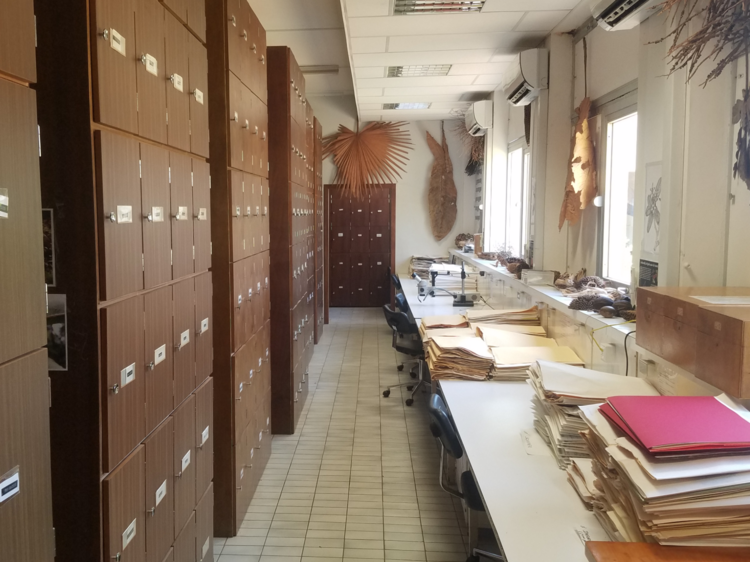 Collection room of the Herbarium of New Caledonia. By David Bruy.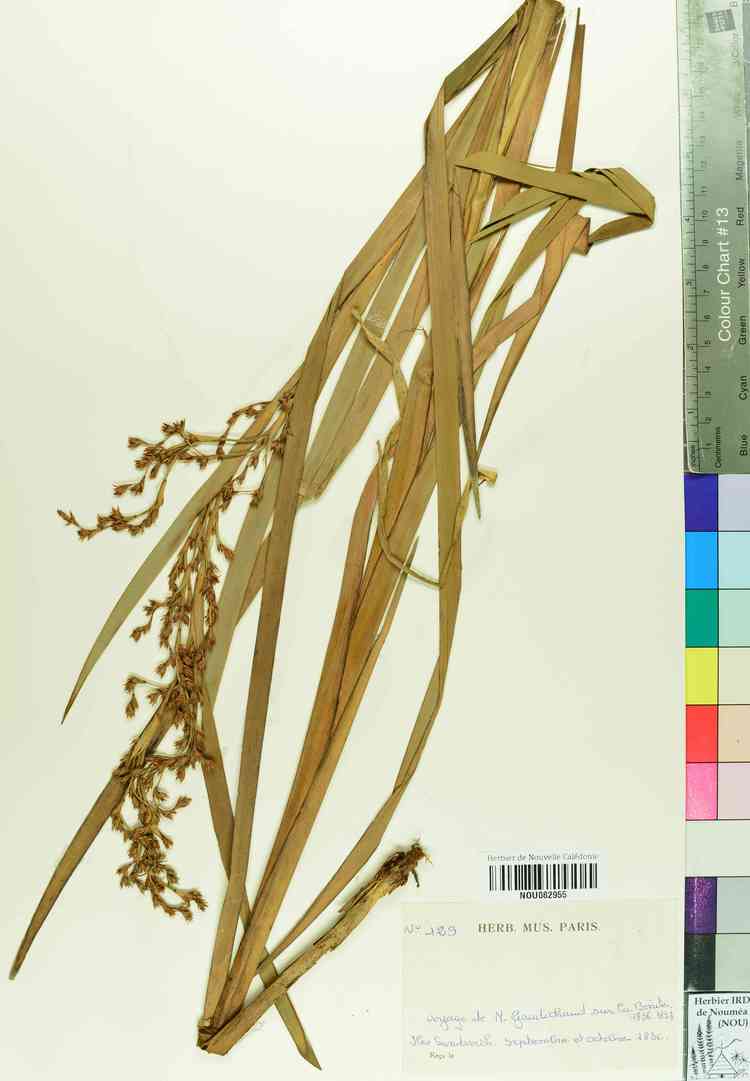 The oldest herbarium plate in the NOU herbarium collections, from Gaudichaud's voyages to the Pacific in 1836.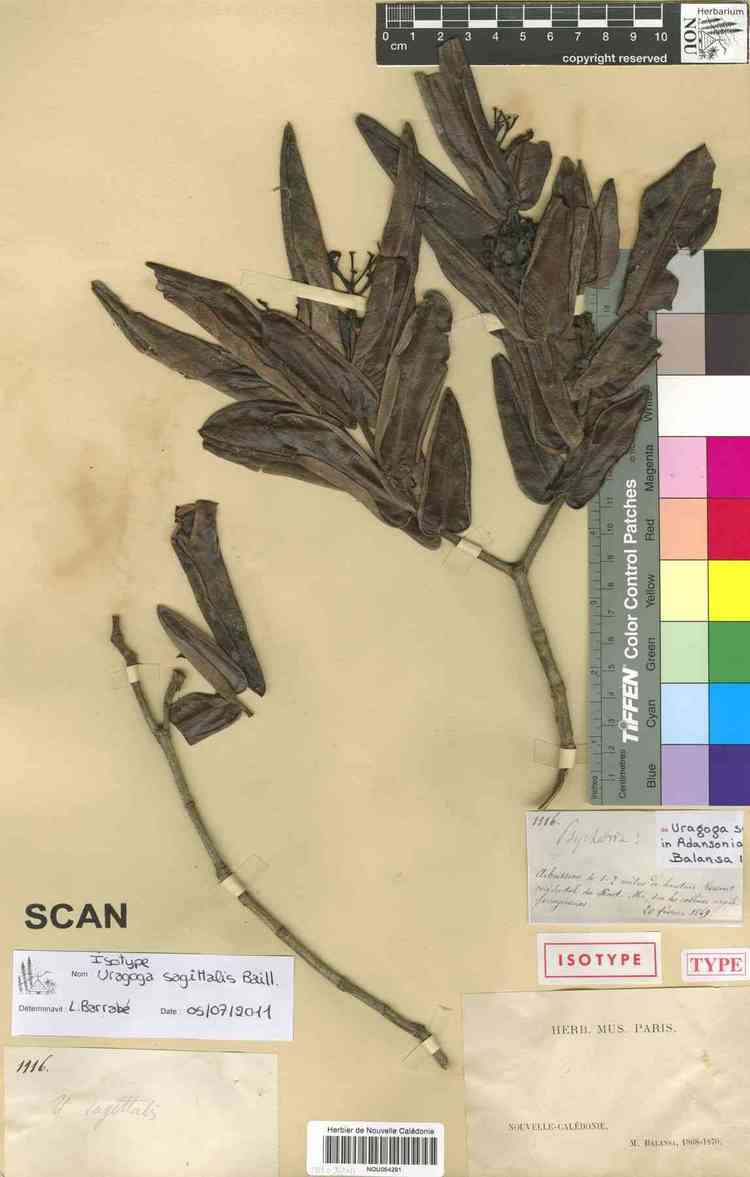 Isotype of Uragoga sagittalis Baill, today Psychotria sagittalis (Baill.) Guillaumin ex Barrabé & J. Florence:
This specimen collected in 1869 by Benjamin Balansa, French explorer and botanist, is still today the only one known
for this species which has never been found since.